Applied fitness
My first two goals are things I should have done years ago when I first started my current job.  I train astronauts how to do space walks.  Part of that training involves donning the space suit and training underwater in the Neutral Buoyancy Lab – an enormous indoor pool with a full-size mockup of the Space Station.  By training underwater, the astronauts can learn what it feels like to work "without gravity" while orbiting Earth.  As an instructor, I am allowed to go in the suit and train as astronauts do.  The requirements, besides being healthy enough for physical activity, are to pass a swim test and a SCUBA skills test.  Don't ask me why you have to prove you are a good swimmer in order to be in a space suit.  Common sense tells us you can't swim your way to the surface in the suit, but as arbitrary as they are, those are the rules.
I have never been a good swimmer and instead of making it a priority, I made excuses.  Granted, I've had some significant challenges in my life over the past few years, but I shouldn't have let that stand in the way of doing a suited run in the NBL.  So this year I'm putting those excuses aside.  Here are the elements to those goals:
1.  Pass the NBL swim test
800 ft (8 x 100-ft) in 10 minutes
10 minutes treading water
50-ft underwater in one breath (no wall start)
2.  Pass the NBL SCUBA skills test
Mask remove, replace, and clear
Regulator remove, recover, and clear
Alternate air source ascent
Controlled emergency swimming ascent
Diver rescue
Assisted equipment ditch and don
Catastrophic regulator failure simulation
I have recently taken up rock climbing and, thanks to some good friends, am sticking 
with it.  I'm quickly learning that it's not as much about brute strength as it is technique.  Sure, strength helps, but so do mobility, flexibility, and body positioning.  I appreciate how the sport is equal for men and women, young and old.  I also like how it is an application of physics and strength.  At first, everyone just tries to pull themselves up.  Even after the first few times going to the gym, I quickly noticed how changing the positions and directions of forces applied from you to the wall can help.  I want to continue going to the gym, with enough frequency to build the finger strength over time.  I also want to learn better technique so I can apply it outdoors.  My third goal is to go on a rock climbing trip and apply what I learn in the gym.
3.  Climb outdoors on a real rock face
Climb a 5.10 (gym)
Climb a 5.11 (gym)
Climb a crack (gym)
Personal projects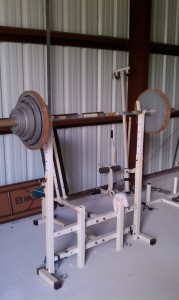 As I am establishing a new home on some property, I have a couple goals that I think can be completed by the end of this year.  While I think #5 can be completed in a matter of weeks, it is lower in priority than #4.  I should also point out that #4 will be built in a barn, outside of the house.  After a year of focused weight training, I have exceeded the limits of the set I bought to start things off  (Bench press rack and bench, 300-lbs of barbell & plates).  I still go to the gym at work as my primary training grounds, but it's nice having a backup at home for weekends and holidays.
4.  Build my house
5.  Upgrade home gym
Squat rack (with pull-up and dip bars)
Rubber horse mat
Bumper plates & more weights
Rock climbing pull-up board
Artistic release
This site was initiated as a home for my musical endeavors.  I quit spinning at the Davenport last year when they owed me for four nights and never responded to pay me.  I'd like to find another gig, preferably with more competent employers.  Until then I want to get back into DJing just because it's something I enjoy.  Eventually, I want to spend some money on hardware and software for music production.  I just have to balance that with the cost of building my house.
6.  Record at least 10 music mixes in 2012
I have tried to list specific, measurable, and attainable goals.  This last goal is the most vague, yet it shouldn't be hard to accomplish.
7.  Try something new
I am posting these online, publicly, for two reasons.  I want to openly document my goals.  I also want you to hold me accountable to them.  I'd prefer if you used a positive approach to encourage and guide me, but I suppose it's fair to chastise me if you see me quitting.